Leica M6 + Summicron 35mm F/2 – Rental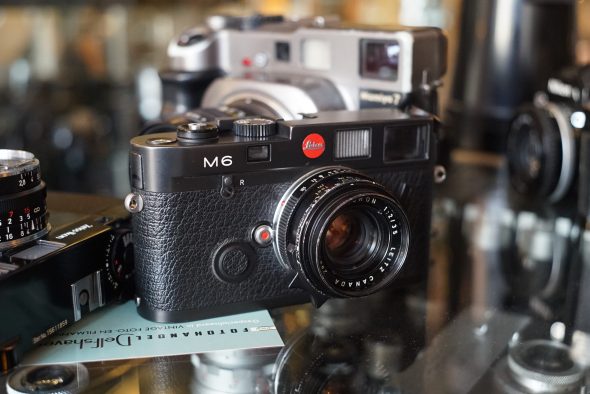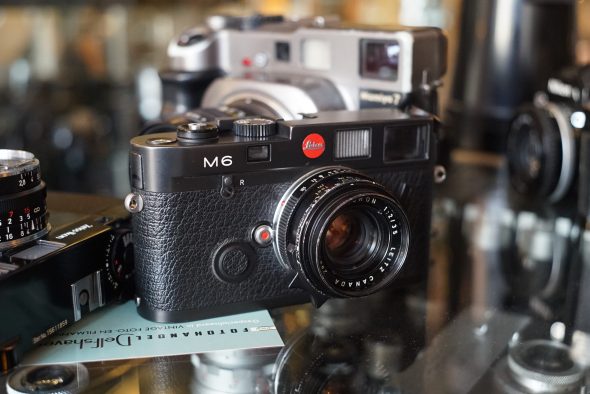 Price: €160,00 per week
The Leica M6 is the most famous rangefinder camera around. Its compact size and built in lightmeter make it the perfect travel or walk around camera. If you are after the real Leica rangefinder experience and need a built in lightmeter this is the camera to get. Originally manufactured from 1984 – 2002 and one of their best selling models ever. So good it was recently reintroduced back in production in 2022.
The camera has 6 framelines for 28, 35, 50, 75, 90 and 135mm lenses. Its shutter can shoot from 1/1000th to 1 full second. Despite being a more modern version and having the built in meter the camera still feels and operates like its predecessors. High end rangefinder with sharp framelines and a deadly accurate rangefinderpatch. Combined with our Summicron 35mm F/2 lens (version 3) its the ideal kit to have a taste of this photography icon.
Main specs:
Compact and simple to use
Built in lightmeter
6 framelines and accurate rangefinder
Included in this rental kit:
Leica M6 body (classic) in black
Leitz 35mm F/2 Summicron V3 lens
Lenscap
Strap
Battery
Protective bag/case
Hands-on demonstration at pickup
Select rental dates
Pay to confirm your rental
You will receive a confirmation with all information
Pickup the camera at our store
Shoot your favorite film
Return the camera
Share your shots with us on Instagram*
THE BEST FILM EXPERIENCE POSSIBLE
The worlds best film camera's

We have made broad selection of the most sought after and premium film camera's. Ranging from beginner SLR's to the most high and medium formats or rangefinders.

Affordable renting rates

We like to keep film photography accessible for everyone and therefor manage reasonable rates for weekly periods.

Frequently serviced by ACR

Due our close partnership with Alan from Amsterdam Camera Repairs we are able to maintain and service our rental products frequently.

Hands on demonstration

When collecting your rental camera we will show you the cameras' operation, show you how to load film and how to take beautiful images with it.

Add film to your order

When picking up your rental in the store you can choose from a wide variety of films to add to your order. You can go shooting right away!
Rental Terms & Conditions
Terms and Conditions – Rental service version 2022.02
Deposit:
– The deposit will be paid in store by debit card or credit card.
– The deposit might vary per rental and period or person. First time rentees might be charged a higher deposit covering replacement values.
– For known or regular customers we can decide to not charge a deposit prior to renting.
– Providing the rental product is/are returned in the same condition in which they were rented, your deposit will be returned within 5 business days. Each rented product will be tested after the rental period. Should any damage or defects be found, then the repair cost will be covered in full or in part by your deposit.

-Insurance:
– All rental prices include insurance for unintended damages or defects.*
– Own risk of €350,00 applies to all rental contracs, unless stated and discussed otherwise.
*All external force damages such as dropping, water damage, sand damage, use of wrong film or accessoires and theft are not covered by our provided insurance. For professional shoots or less camera friendly environment we advise getting a liability or rental insurance yourself.
Prices:
– All rental prices on contract or website include 21% VAT.
– Deposit and rental fee are specified on the contract given to you on the pickup day.
– Deposit and renta lfee are payed up front before or during pickup.
Pickup:
– At this moment in time we don't ship out rentals and they can only collected in our Delft store in person.
– Rentals can only be picked up by the person who has booked the contract.
– Rentals can only be picked up and returned during opening hours. (please see website for current opening hours)
– 

Upon collection, you will be required to show two physical 

forms

 of identification. 

1. Valid form of ID, drivers license or passport. 2. Government, tax or utility letters or bill addressed to you and not older than 2 months.


– Each rental is inspected for its function and (cosmetic) condition at pickup and at return.
Cancellation:
– For cancellations more than 24h before the first rental day we will provide a full refund.
– Based on provided details or information, or the lack of providing of these, we have the full right to refuse any rental prior to pickup.
Rental period:
– The minimum rental period is 7 days.
– If you would like to extend your rental period when already having picked up the products please contact us by phone or mail at least 48h prior to the last rental day. If there are no other bookings in the period you would like to extend to we can arrange an additional rental period for you.
Returns:
– All products must be returned before 17:00 on the last rental day.
– Each rental is inspected for its function and (cosmetic) condition at pickup and at return.
– Only when you have asked and gotten a confirmation from our side (mail or telephone) there can be a different pickup return moment.
– For too late returns additional fees will apply.
Usage/Instruction:
– If you are new to the rental product or even filmphotography we can give you a quick start up guide in the store when picking up your rental product(s).
– During the rental period you are responsible for proper use of the goods. Please refer to a user manual or instructions online. Any damages or non-reasonable user marks due incorrect use can be charged to the customer.
Other/Legal:
– Under all circumstances all supplied products and accessoires remain property of MK Optics / Fotohandel Delfshaven.
– Under no circumstance it is allowed to open up and internally inspect any item rented from Fotohandel Delfshaven.
– Legal actions will be taken when nescessary, all additional costs will be charged on customer in question.
– We do our very best to maintain the cameras on a regular bases with the help of Amsterdam Camera Repairs. However, like all vintage equipment it can sometimes fail. In the unfortunate case of technical issues we will do our best to find a proper solution* together with you. *We can not be held responsible for any other costs than the rented equipment. For professional shoots or productions we advise always bringing some sort of a backup