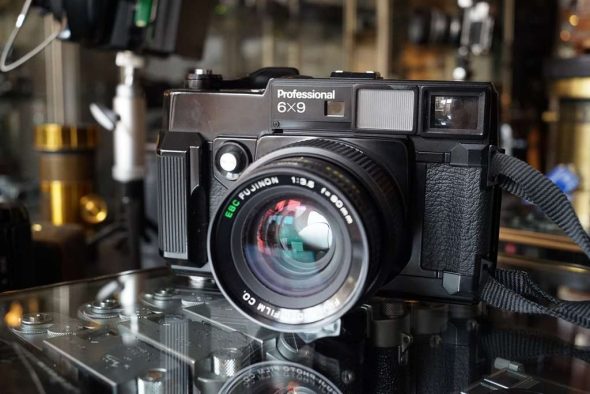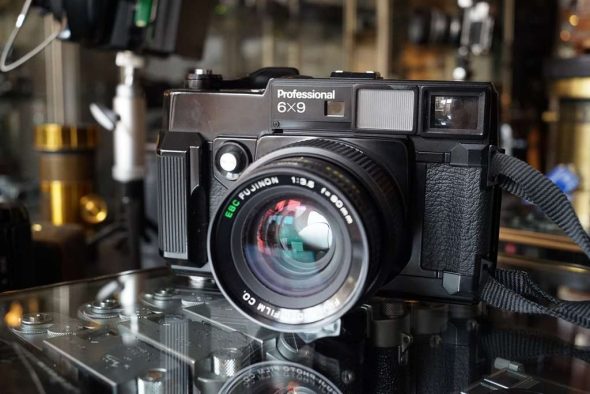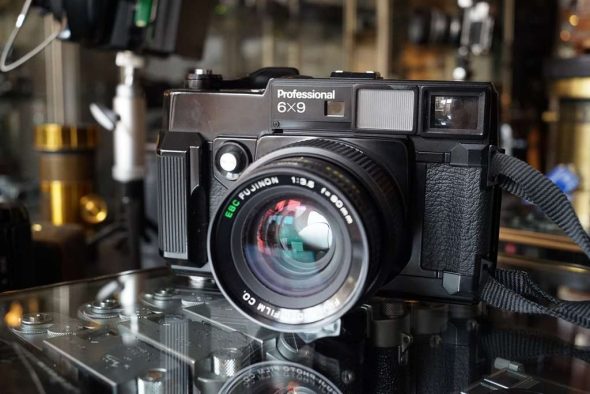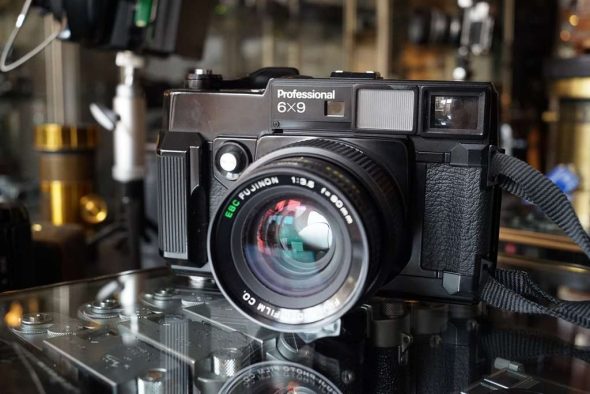 Film Camera Rentals   |   Let's make film photography accesible for everyone
The Fujica GW690 is also nicknamed the "Texas Leica" because it's very simmilar in looks and operation to a regular Leica M camera, but just way bigger. Because of this the Fujica GW690 is incredibly easy and quick to use. One of the advantages of this camera over it's German cousins is the huge negative it shoots: 6cm x 9cm! The Fujica GW690 uses a fixed lens 90mm f/3.5 EBC Fujinon with a minimum focus distance of 1m. The camera uses a leaf shutter which makes it possible to use a flash at every shutterspeed.
The Fujica is big but very portable and has one of the largest 120 negative sizes available. The perfect camera when you need maximum resolution and sharpness for large prints or fine scans.
The Process
Select rental dates.


Pick-up time must be during our shop opening hours: Wednesday till Saturday from 1pm till 5pm.
Minimum rental period is 7 days.

Fill in the form and hit

RENT THIS AWESOME CAMERA

Collect your camera in the store.

Don't forget to bring your ID and a recent utility bill.
The Deposit needs to be paid at pickup.

Shoot film …

Return your camera

Give us a shout out on social media
Terms and Conditions
Rentals can only be collected in person at this time

The minimum rental period is 1 week (7 days) and the camera shall be returned by 5pm on last day of rental

Upon collection, you will be required to show two physical copies of identification. One should be a passport or driver's license. The other should be a bill e.g. utility bill, addressed to you

Each camera will be inspected and its functional and cosmetic condition sighed off by both parties prior to rental.

The deposit and rental price shall be paid upon collection and can only be paid via debit card or credit card.

Providing the camera is returned in the same condition in which it was rented, your deposit will be returned within 5 business days.

Each camera is tested and serviced where required by Amsterdam Camera Repairs prior to rental

Each camera is tested after the rental. Should any damage or defects be found, then the repair cost will be covered in full or in part by your deposit.
Additional terms and condition
-Deposit:
The deposit will be paid in store.
The deposit equals 5 times the weekly rental price.
In certain cases first time rentees might be asked for a higher deposit, covering the replacement value.
Regular customers do not need to pay any deposit.
-Insurance:
All rental prices include insurance.
Own risk of 350euro does apply.
Theft, loss and water damage are not covered by our insurance.
-VAT:
all prices include 21% vat.
-Shipping:
For this moment we do not offer shipping services for rental products.
Cancellation for any booking is possible up to 24hours before your scheduled pickup and a full refund will be provided.
Just drop us a line in case you wish to extend your rental period. We work in 1 week intervals.
In case of scheduled service or reservation by someone else the booking cannot be extended.
Extension needs to be spoken for before the last day of your rental period.
pickup and returns are only possible during our regular shop opening hours. Wednesday till saturday from 1-5pm.
It is your responsibility to return the camera in time and to take good care of it during use.
Late returns are not accepted and additional fees will apply.
Legal action will be taken when necessary. all cost or for rentee.
At all times the equipment remains property of MK Optics / Fotohandel Delfshaven.
Rental cameras are not for sale. Regular shop stock cannot be rented out.
We reserve the right to refuse any rental for whatever reason. Full refund will be provided.
In case you are new to film photography we might provide you with a starter camera instead. rental fee will be lowered accordingly.
Under no circumstance it is allowed to open up and internally inspect any item rented from Fotohandel Delfshaven. All items and individual parts rented from us remain our property at all times.
We do our best to keep the cameras in top condition and regular service is provided by amsterdam Camera Repairs.
However, we rent out vintage equipment. In the unfortunate case of technical issues we will do our best to find a proper solution together with you.
We however cannot be held responisble for costs higher than the rental amount.
a Valid ID should be provided at pick-up along with a recent utility bill. For legal reasons we can only accept customers based and registered in Holland.
Valid ID are: Passport, ID card, Driving licence, Residence permit.
It is not possible to have camera's picked up by a third party.