Mamiya 7II + Mamiya 4 / 80mm Sekor lens
The Mamiya is probably the best 6×7 camera ever made. Its small and light, super easy to use and with a huge rangefinder, its incredibly easy to get the best out of the very sharp Mamiya 80mm lens.
It feels very much a large Leica and the built in light meter makes correct exposure easy to achieve. The electronic leaf shutter is absolutely silent, causes no shake and makes the Mamiya 7ii an absolute joy to use
This is one of the most desirable medium format 6×7 cameras, so don't miss your opportunity to find out what the hype is about.
Included in this Mamiya kit:
Mamiya 7ii body

80mm f/4 Mamiya lens

Strap + cap


User manual
This kit comes ready to use. Just add film and shoot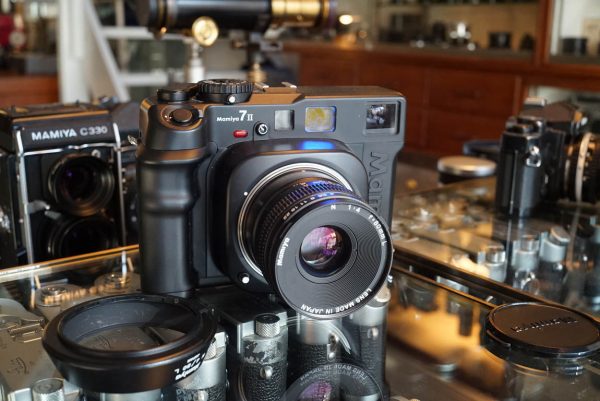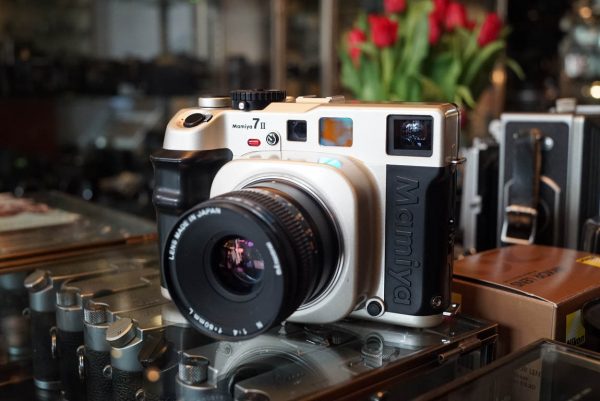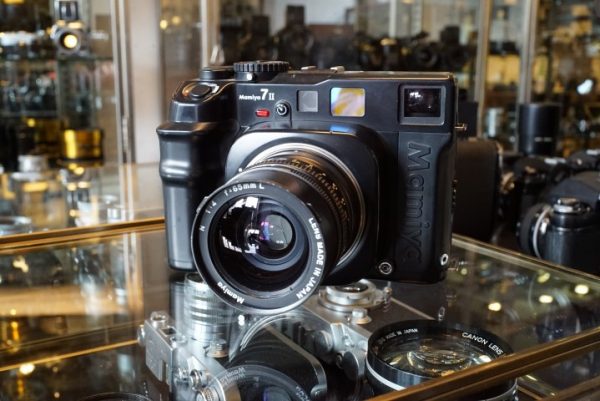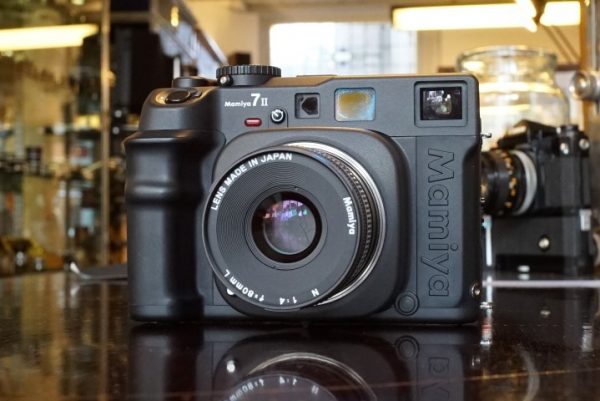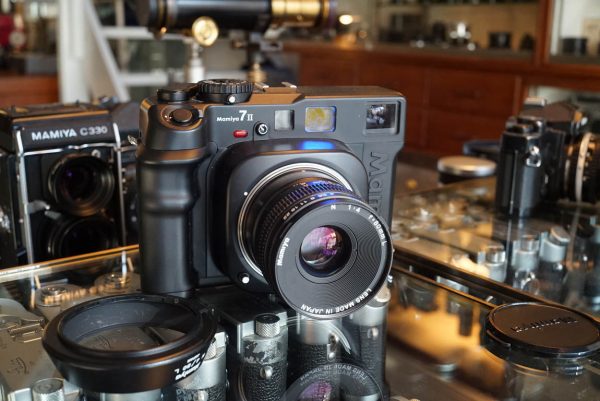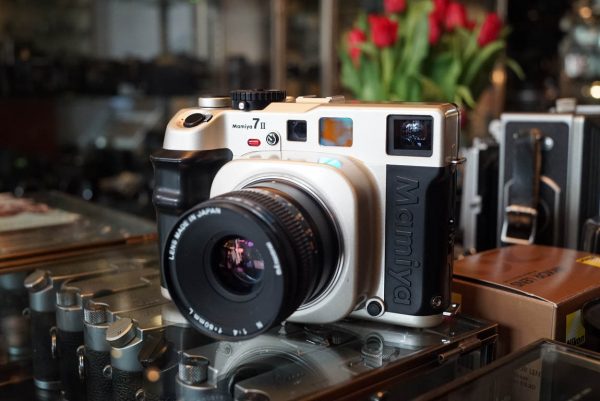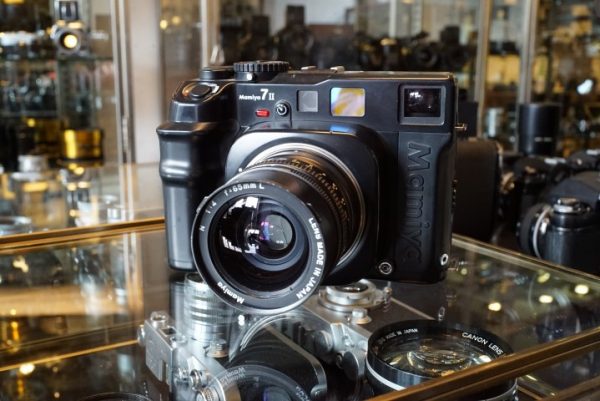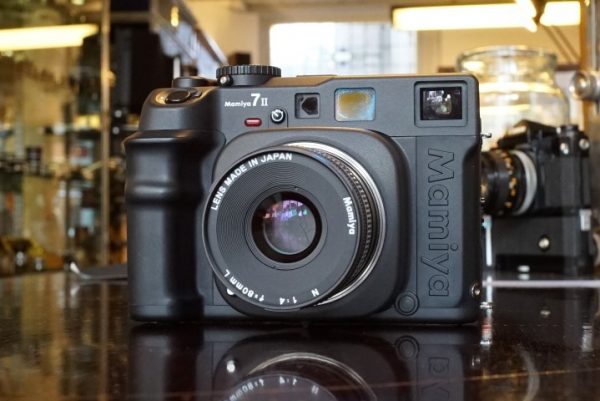 Deposit:
Weekly rate:
link to knowledge centre
Price: Sold
We are on a mission to make film photography more accessible than ever before, by making it easy to get the world's best film cameras in your hands.
Film Camera Rental
We rent every type of film camera imaginable and for all budgets. We have some of the most desirable 35mm SLRs, Rangefinders and Medium Format cameras. We have a huge range of Leica, Canon, Mamiya, Nikon, Rolleiflex, Penax, Fuji and more, for you to enjoy
Whether you are a seasoned film pro looking to try something new, or a complete beginner looking to experiment before making the commitment, we've got something to meet your needs.
Check our rentals

HERE
About our rentals
Each item is fully checked and tested by Amsterdam Camera Repairs prior to the rental, and receives a complete service every 6-months. Each kit is supplied in a hard-shell case and strap for safe keeping, and where a camera does not have a build in lightmeter e.g. Hasselblad, then we will also include a handheld lightmeter.
How it works
We rent our film cameras in one week increment, but if you're really enjoying the camera and wish to extend the rental period, then just give us a call.
Rentals are collected and returned to the store on an agreed time and date. The checkout process can be as short as 10 minutes, or longer if you need some hands-on instruction
Terms and Conditions
Rentals can only be collected in person at this time

The minimum rental period is 1 week (7 days) and the camera shall be returned by 5pm on last day of rental

Upon collection, you will be required to show two physical copies of identification. One should be a passport or driver's license. The other should be a bill e.g. utility bill, addressed to you

Each camera will be inspected and its functional and cosmetic condition sighed off by both parties prior to rental.

The deposit and rental price shall be paid upon collection and can only be paid via debit card or credit card.

Providing the camera is returned in the same condition in which it was rented, your deposit will be returned within 5 business days.

Each camera is tested and serviced where required by Amsterdam Camera Repairs prior to rental

Each camera is tested after the rental. Should any damage or defects be found, then the repair cost will be covered in full or in part by your deposit.
The Process
Choose your camera and select rental dates

Go to Checkout and hit

RENT THIS AWESOME CAMERA

Collect your camera

Shoot film …

Return your camera

Give us a shout out on social media
Book your date with this mamiya kit
Lets go Shopping
Links from each of these categories to the products within the category
35mm SLR
35mm Rangefinder
Leica M3 with Summicron 50mm f/2 and Leicameter
Medium Format – 645
Mamiya M645 with 80mm f/2.8 Lens
Mamiya M645 Super with 80mm f2.8 N lens
Fuji GS645W
Medium Format – 6×6
Hasselblad 500 C/M with Zeiss Planar 80mm f/2.8 CF lens
Hasselblad 500 C/M Kit with 4 lenses
Mamiya C330 Pro F with 80mm f/2.8 lens
Rolleiflex 2.8F TLR with Zeiss Planar 80mm f/2.8 lens
Medium Format – 6×7
Pentax 6×7 with 105mm f2.4 lens
Mamiya RB67 with 90mm f/2.8 lens
Mamiya RZ67 Pro II with 110mm f/2.8 lens
Mamiya 7II + 80mm f/4 lens